Live Well Bake Often


3:00 am PDT, August 12, 2019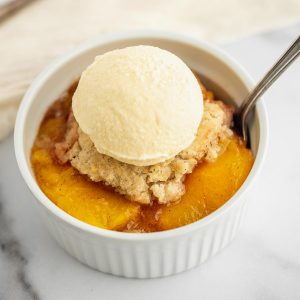 Do you love fresh peaches this time of year? Not only do they always taste so much better right now, but they're perfect for baking with too. So today I wanted to share one of my current favorite peach recipes with you – this homemade peach cobbler!
If you're not familiar with cobbler, it's similar to a crisp. The main difference between the two is that cobbler is made with a biscuit topping whereas a crisp is made with an oat or streusel topping. While both are delicious, there's something so incredibly comforting when it comes to warm fruit topped with a sweet biscuit topping!
An added bonus – you can even make this cobbler with canned peaches, which makes it perfect to enjoy year-round.
Continue reading Homemade Peach Cobbler at Live Well Bake Often.